HIPBONE SLIM AND HIS FROGMEN (Garage Rock Rhythm and Blues / Angleterre)
Prix : 6€
Date : samedi 02 novembre 2019 - mercredi 29 novembre 2023
Heure : 21 h 00 min -
Adresse : 12 AVENUE CAVAIGNAC, 24000, PERIGUEUX
Salle : l'Amphore
HIPBONE SLIM AND HIS FROGMEN (Garage Rock Rhythm and Blues / Angleterre)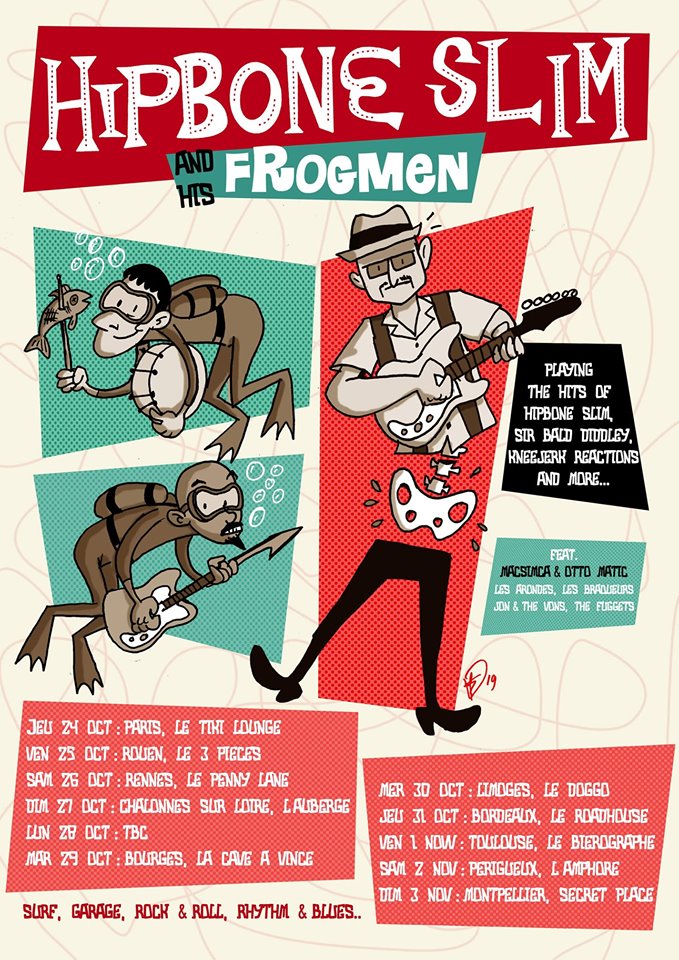 Figure culte de la scène rockabilly, surf et garage anglaise,
Hipbone Slim
(alias sir Bald Diddley, alias The Bald Bomber, Baldie McGhee, etc.) est l'un des musiciens/interprètes les plus prolifiques de la scène rock'n'roll londonienne.
Il sera accompagné pour cette tournée française de Jean Marc Fernandez (Les Arondes,The Mammies etc…) et de Maxime Simca (Les Arondes, Peripherique Est, Jon & The Vons etc…)
On le retrouve en version groupe avec les formations Kneejerk Reactions, Hipbone Slim and the Knee Tremblers, etc., etc. (Voodoo Rhythm Rds, Beast Rds, Dirty Water…).
SAMEDI 2 NOVEMBRE / 21H / 6 €
L'AMPHORE – PERIGUEUX